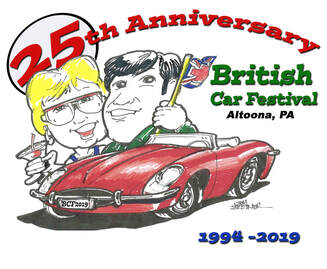 Altoona British Car Festival
We are pleased to announce that we are making the final plans for this years event. The event will take place August 28 – 30th. As you all know, our lives have changed in the past few months and so our plans have had to change, but we are doing our best to make this year's event fun, yet safe for all.
We have been able to secure a new host hotel (Fairfield Inn & Townplace Suites by Marriott) and the link for reservations is located below. They are holding rooms until 2 weeks prior (August 18th). The cost per night is $91 and is also pet friendly.
Book your group rate for Central PA British Car Club
We are waiting for artwork so we can finish the brochure and get it sent out for registration as well as update our website for easy registration (pabritishcar.com).
Our plans are to host registration and a pizza party Friday night at the host hotel. This will be held either in the lobby/patio or in the parking lot depending on weather.
Saturday, registration at the hotel from 9 am till noon (Funkhana has not been nailed down as PSU has been under strict lock down guidelines). We will be making an earlier drive starting at 4 pm from the hotel to arrive at our Saturday night dinner at Fort Roberdeau, a historic fort built in 1778 during the American Revolution. A private tour of the site will begin upon arrival, followed by our Pig Roast and Just Desserts party. After dinner, we will have the opportunity to visit the Mt. Lion Observatory (on property) to view the night sky hosted by Tom Kasner from the Starlight Astronomy club.
Sunday, we will hold our event at Lakemont Park from 9 am to 5 pm. Unfortunately, DelGrosso's will not be open this year due to challenges they were not able to overcome due to the pandemic. The Casino at the park will provide a BBQ chicken dinner, which will be served at noon.
We hope to see you in August and for those who cannot attend, we look forward to seeing you next year.
Jim & Lori